CREATE YOUR INSTAGRAM VISUAL VOICE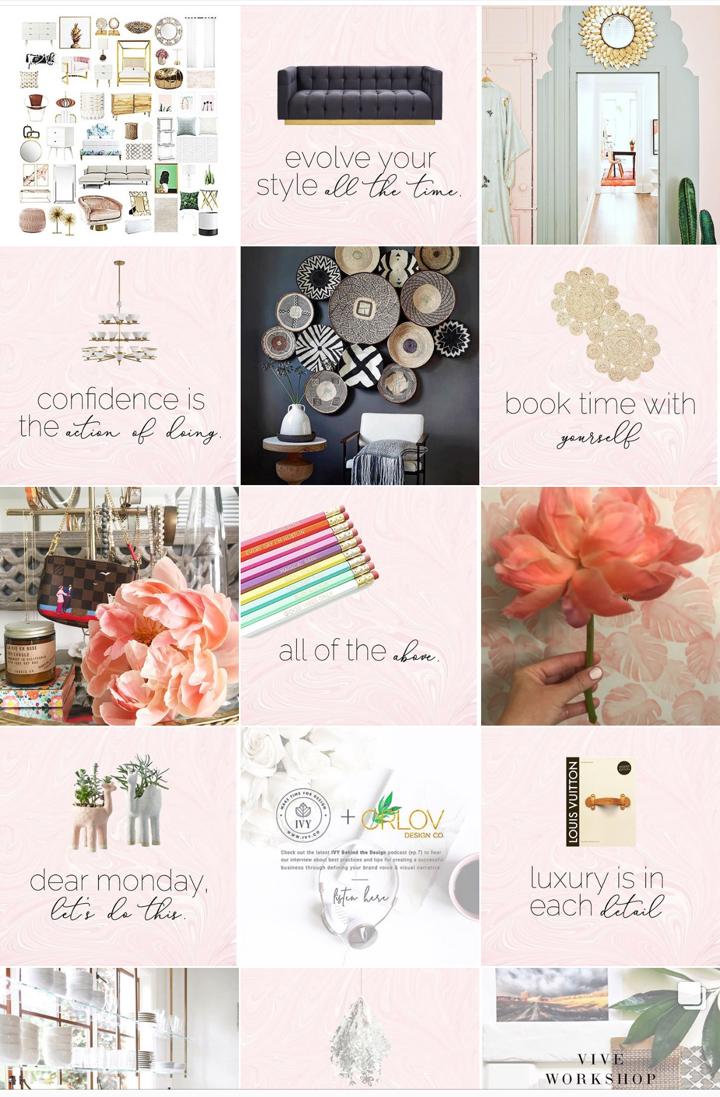 CURATE YOUR COMPANY'S INSTAGRAM VISUAL VOICE
FOUR POPULAR GRID STYLES TO ROCK YOUR OWN STYLE
We love Instagram! It's such a fantastic platform to share your inspiration and to gather tons too. I often find myself going way deep down "the Instagram rabbit hole" aka scrolling though and jumping around Instagram when, oh, two hours fly by. But in these times, and mostly any time had on Instagram, it's always fantastic to see how people, companies and brands curate their visual voice.
Your Instagram Visual Voice is how your feed unfolds. This is not the copy & captions that you are adding but the image curation.
Do you post every photo with the same filter?
Do you have a pattern? (Like I do)
Do you have a color scheme?
Do you use only typography?
Do you post larger images?
Whatever you do, keep it consistent. And if you have not created a visual voice yet, never fear! You can always do this and design a feed that represents your brand voice and style. Here's a simple list to choose from to create your own!
• GRID STYLES •
How Your Grid Will Look As A Whole
• SQUARES WITH A COLOR FILTER •
We love this style of posting and it gives you a lot of freedom too. Each post is unique in style but the whole makes up a cohesive color palette. One of our fave, Alfred Coffee, uses filters and editing for their awesome feed which totally feels like a pink and green palette and 100% on brand with their voice.
We love this style (we have this for our own IG feed!) and especially love how there's a lot of options to add in inspo through positive statements. You can mix this up for sure but we recommend keeping your typography and our balance consistent. Pick one or two fonts & place them in the same space/area in every photos. Stick with this throughout your postings to pull it all together.
Another fantastic and elevated option is to do a color ombre feed. This is when your feed seamlessly moves from color hue to color hue at some point. Most feeds dedicated to this style do a change within 6 or 9 posts. One of our absolute faves - Earl.St - successfully and smartly achieves this vibe. They showcase what inspires them along with weaving in projects from their design agency. So good!
Super styled and super chic, the white border instagram feed is a fab way to show your work and inspo. This does take time to do because you have to edit every image but the outcome is so rewarding. Check out Barre Boss, a feed with white borders and total style.
How do you style you IG? Check out our latest to see what inspires Orlov Design Co.